Country Profile
Turkmenistan is home to one of the world's most oppressive and secretive regimes. The Central Asian country, situated on the Caspian Sea between Iran, Afghanistan, Kazakhstan and Uzbekistan, was part of the USSR until it became independent in 1991. Although the country is rich in natural gas deposits, around 10% of global reserves, the population of around 6 million people remain impoverished. The state is highly reclusive, with little outside influence, particularly from Western nations. According to Human Rights Watch, 'all fundamental rights and freedoms' are restricted in the country and 'all aspects of public life' are controlled, with considerable 'encroach[ment] on private life'. Its autocratic leader, President Berdymukhamedov and his government maintain absolute control over news and media outlets in the country. 'Journalists have been arrested, tortured, physically attacked, or otherwise forced to stop working,' (Reporters Without Borders). Dozens of people have 'forcibly disappeared' since the late 1990s and their families still do not know where they are or if they are still alive.
Outside Information into the country remains severely restricted. According to the BBC, in 2018 less than 20% of the population were internet users. State-run companies like Turkmentelecom have a monopoly on internet access and their high costs make it inaccessible for most of the population. Even for those with internet access, social media sites like Facebook and YouTube are blocked and it is difficult to access international news websites. TV remains the central medium by which Turkmens receive their information and it is strictly controlled. The authoritarian government has been known to remove satellite dishes from houses where people have attempted to watch Turkish or Russian television. It is hardly surprising therefore, that Reporters Without Borders have described the country as "an ever-expanding news black hole".
'No Covid-19'? All is Not as it Seems…
As of 26th July, Turkmenistan has officially registered ZERO cases or deaths from COVID-19, the only non-island nation bar North Korea to have done so. This figure is virtually an impossibility given that as of the same date, neighbouring Iran has recorded over 280,000 cases and over 15,000 deaths. Even Kazakhstan, which was late to acknowledge the existence of an outbreak has recorded over 80,000 cases and at least 585 deaths, according to their low government tally. There have been widespread reports of pneumonia and respiratory disease across the country for months now, which the Foreign Ministry continue to try and supress, dubbing them 'distorted' and 'baseless'. These cases 'of unknown cause' were confirmed by the WHO at a press briefing on 15th July, but simultaneously denied by Dr Ovliyagulova, Head of Turkmenistan's Department for the Surveillance of Dangerous Diseases on the very same day. The authoritarian government has banned any mentioning of the virus, instigating comprehensive measures to supress any possible claims of a Covid crisis. Medics working in hospitals are banned from bringing phones or recording devices inside and must also live onsite for weeks on end. Law enforcement are apprehending those who discuss the virus in public, even those talking on the streets.
It is becoming increasingly apparent, despite the efforts of government, that the situation inside the country is serious. Dozens of foreign workers have been leaving the country on chartered flights, according to Amsterdam-based Turkmen.news. Reports from locals in Ashgabat to Radio Free Europe's Turkmen Service, claim that '50 people [are dying] on average every day' in just one intensive care unit of the city. On 19th July, 'doctors warned there were no more plastic [body] bags' for the dead and that bodies were now 'being wrapped in chlorine-soaked cloth'. Ventilators are in critically low supply. Public workers face on-the-spot 'health check-ups' and transport between the country's cities via bus and rail has been shut off. Shopping centres and other public spaces like museums have now closed, borders have been sealed for over three months and face masks are now mandatory for all. All of this whilst the country remains officially 'Covid free'.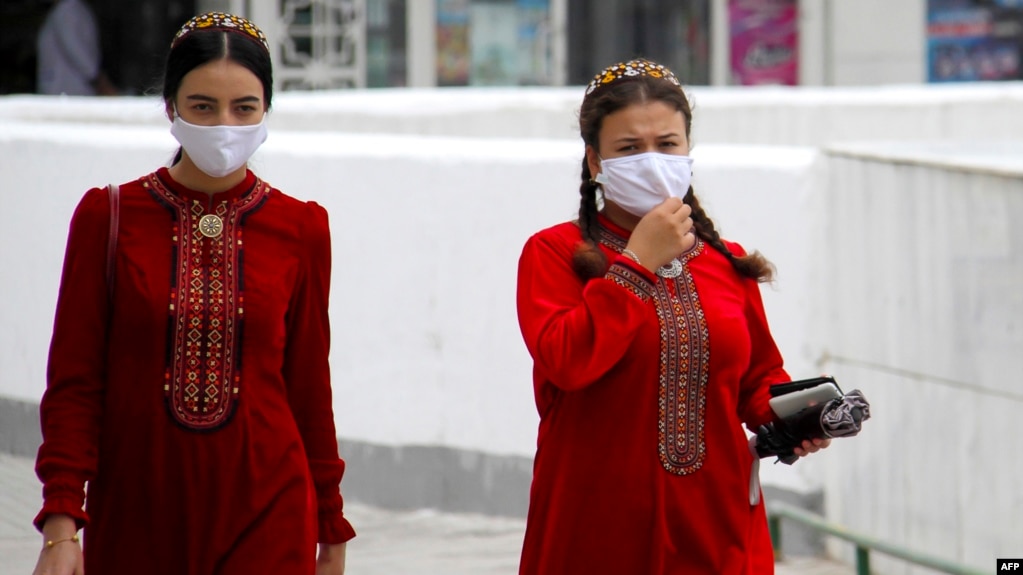 State media and officials claim that measures such as mandatory face masks have been put in place to protect citizens against 'high concentrations of dust' which the Foreign Ministry appeared to suggest could be the cause of illness, whilst again not admitting that there were any widespread cases of infectious disease in the country. Turkmenistan's government cite general disease-prevention and concerns about "air masses formed in the environmental disaster area" of the Aral Sea as justification for their now extensive measures. Despite many countries globally coming out of lockdown measures, the situation inside Turkmenistan continues to grow more and more alarming, with bleach and disinfectant now being sprayed from trucks and light aircraft across the country. Concerns have been raised about the high concentrations of chemicals being used and the potential damage to health and agricultural produce by many in the country. In a bid to try and tackle the situation, the EU's Central Asia Covid-19 Crisis Response Program or CACCR will be sending over 400,000 sets of PPE and 1,000 test kits to the country; but whilst Turkmenistan's leaders continue to deny the outbreak, any comprehensive attempts to tackle it will likely be in vain. The real scale of the crisis within Turkmenistan remains unknown.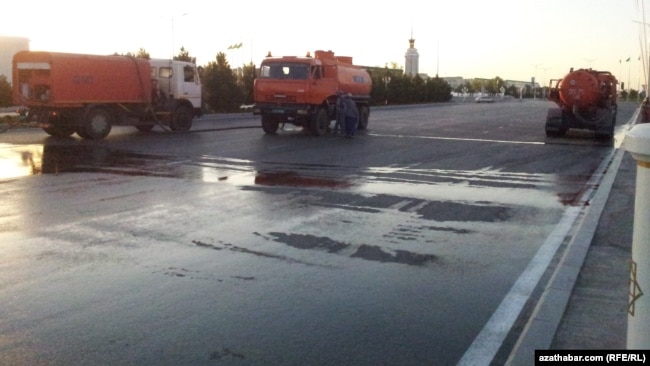 Sources:
https://www.rferl.org/a/covid-19-regional-wrap-july-22-2020/30741319.html
https://www.rferl.org/a/citizens-frightened-as-turkmenistan-sprays-disinfectants-from-planes-to-fight-coronavirus/30742517.html
https://en.trend.az/casia/turkmenistan/3274492.html
https://eurasianet.org/turkmenistan-a-fishy-situation
https://www.msn.com/en-au/lifestyle/wellbeing/who-urges-turkmenistan-to-take-steps-as-if-covid-19-was-circulating/ar-BB16M0xi
https://www.hrw.org/news/2020/06/27/turkmenistan-denies-apparent-covid-19-outbreak
https://www.rferl.org/a/turkmenistan-coronavirus-deceit-death/30743908.html
https://www.hrw.org/europe/central-asia/turkmenistan
https://www.bbc.co.uk/news/world-asia-16095369